37th Annual Prouty Honorary Co-Chairs
Merle Schotanus and Scott Gerber, PhD, 2018 Prouty Honorary Co-chairs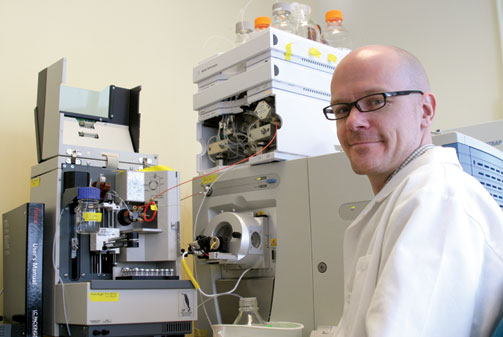 Scott Gerber, PhD
Scott Gerber, PhD, is an Associate Professor of Molecular and Systems Biology at Geisel School of Medicine, and a co-Leader of the Cancer Mechanisms basic science research program at Norris Cotton Cancer Center (NCCC).
"My own research is focused on how cancer cells grow and divide. And this is a really important area of cancer research, because cancer cells grow and divide incredibly fast! This uncontrolled growth is what allows for cancer cells to outcompete their healthy neighbor cells. We study the proteins that drive cells to grow more quickly using a technology called "mass spectrometry." Mass spectrometry allows us to study these proteins, and how they "talk" to each other, by measuring all of them at once, in a single sample. This really improves our chances to discover new proteins that we haven't ever considered as being important in cell growth or cell division before, and that's really exciting! And it's all fueled by those incredibly important Prouty donations that help us fund cutting-edge research at Dartmouth's Norris Cotton Cancer Center. Thank you!" - Scott Gerber
Pilot research grants funded by The Prouty™ enable researchers like Scott to test out new ideas and generate preliminary data for larger, national grant competitions. Scott was awarded a Prouty grant in 2016 based on his work using mass spectrometry to study protein-drug interactions. Recently, Scott was awarded a new grant from the National Institutes of Health that is almost 20 times the size of the original Prouty award! "Prouty pilot funding fills an essential gap in NCCC research programs by making high-risk research possible," Gerber says. "Being able to break off a piece of that new idea and show that it could be possible through Prouty funding is really important. Every bit counts!"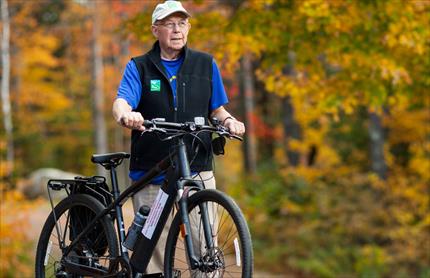 Merle W. Schotanus
Merle Schotanus is a retired U.S. Army Airborne Infantry Officer who started his military career in 1948 in his junior year of high school by enlisting in the Illinois Army National Guard. Merle retired in 1974 with the rank of Colonel and became a fruit grower in Grantham. He holds BA and MA degrees in Political Science from Ripon College and the University of Wisconsin, respectively, and is a graduate of the National War College in Washington, DC. He has dedicated his life to public service, having served in various elected and appointed positions at the local, county, state and federal levels for the past 60 years; and including his military service, 20 years as Grantham's Town Moderator, 14 years representing Grantham and three other towns in the New Hampshire House, and 11 years on the University System of New Hampshire Board of Trustees.

A two-time cancer survivor, Merle first cycled The Prouty in 2006 at the suggestion of his daughter. He was so impressed with The Prouty and its energy for fighting cancer that he started a Prouty team in Grantham —the Grantham Mountaineers—in 2008. That first year, his team had 10 members and raised $5,000. In 2017, the team celebrated its 10th anniversary with 66 members and raised over $111,000. In 2015, Merle successfully cycled what he calls the "Octogenarian 20," just eight months after lung surgery, using portable oxygen and riding an electric assist bicycle.
Some Past Honorary Chairs
36th Annual Prouty Honorary Co-Chairs: Ned Redpath, Erick Lansigan, MD
35th Annual Prouty Honorary Chair: Jane McLaughlin
34th Annual Prouty Honorary Chair: Mark Milowski
33rd Annual Prouty Honorary Chair: Yolanda Sanchez, PhD
32nd Annual Prouty Honorary Chair: Doug Lewis
31st Annual Prouty Honorary Co-Chairs: O. Ross McIntyre, MD
Susan Lynch, MD
Mark Israel, MD
30th Annual Prouty Honorary Co-Chairs: Patty Carney
Bob Gilmore
Lisa Horsch Clark
Susan Lynch, MD
O. Ross McIntyre, MD
Cindy Spicer